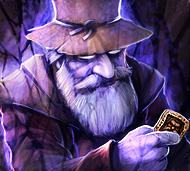 The Gnome Spirit
This is the one you will visit once you have collected a sizeable amount of Gnome Coins after opening Gnome Runes.  The Spirit of the Gnome Merchant is located at

Graves of the Poor or

Place of Sorrow, but he is a late sleeper so he wont be around before 22:00 Faeo time and then he closes shop at 06:00.  He will only accept Valuable or normal Gnome Coins as currency, he is kind enough though, to trade 10 Normal Gnome Coins for 1 Valuable Gnome Coin [personal recommendation is not to do it, since Valuable is needed if you want to buy a Blue Profession Tool, or make your Helmet Artful].
And then there is a belt that can be bought from the Gnome Shop as well.
| | | | |
| --- | --- | --- | --- |
| Coins | Item | Restriction | Description |
| 15 | | level 5 | The belt adds two slots for elixirs, scrolls and other auxiliary combat effects. You can wear only one such belt in combat. |
Now, you wondering what you can buy for your Valuable Gnome Coins, well it is right below here.  There is 3 different option you can obtain the following items with Valuable Gnome Coins.
Option 1: Either pay with just the Valuable Coins
Option 2 and 3: Trade in a certain item for part of the cost and then the rest with Valuable Gnome Coins.  The item in question can have a durability of 1/1 and still be tradeable for an upgraded item which will have full durability.
Item
Requirements
Option 1
Option 2
Option 3

None
14

11
None
None
14
11
None
None
14
11
None
Level 5
7
5
None
Level 5
7
5
None
Level 5
7
5
None
Level 10
Hero
30
/
25
20
Level 10
Hero
30
/
25
20
Level 10
Hero
30
/
25
20
Level 15
Lord
110
/
100
75
Level 15
Lord
110
/
100
75
Level 15
Lord
110
/
100
75